He is forever humble and tireless. We are amazed about the vigor and strength with which he attacks instruction in the dojo and tasks at our events.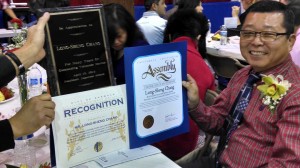 I am talking about our own Sensei Johnson. He was honored this last weekend with multiple, well deserved awards for his de
dication and help with our community and dojo fundraisers. Long-Sheng "Johnson" Chang was given a recognition award from all of us at the Southeast Japanese School and Community Center. The Mayor of Norwalk, Marcel Rodarte and the California State Representative from Norwalk each presented him with a Certificate of Recognition.
The highlight of the night was when Chris Witowitch of Norwalk Judo Dojo gave his speech, which was close to a roast, but very positive and extremely funny! Everyone was laughing at the clever jokes Chris made while giving Sensei Johnson credit for his work and help at the Dojo and the community center.
Here is the Video of the speech